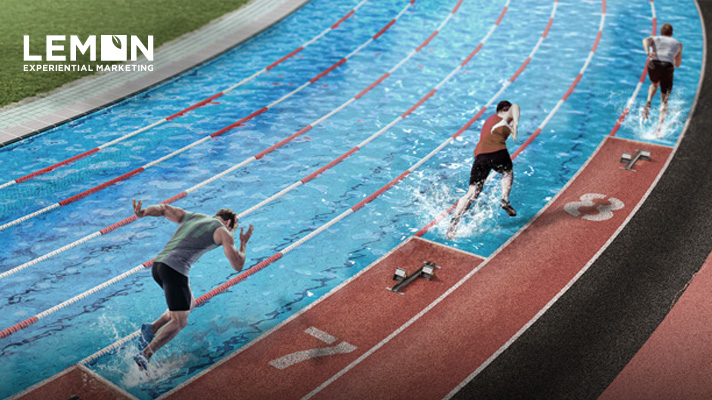 Blu Bank: "We changed the playing ground"
blu Bank, the all-online banking services provider, started to run an OOH advertising campaign with a new slogan: "We changed the playing ground".
This campaign has recently entered its wide-scale public phase to raise awareness about the services this new brand of Saman Bank offers.
The ideas creation and execution of this campaign happened in collaboration with Lemon Experiential Marketing and we discussed the details of it with blu Bank brand manager, Amirali Dehghan, Lemon Creative Art Director, Ali Seraj and Project Manager, Niloofar Yazdani.
What are the objectives behind blu Bank's new campaign?
Dehghan: This campaign marks blu Bank's first large-scale presence in public media. Although blu Bank started its communication activities a short while ago, but it has successfully managed to create engagement within its target audience community. Our objective with this OOH campaign, was to create a kind of curiosity and interest amongst a wider range of target audience towards the services we offer.
Online banking services is currently offered by many other banks in Iran under the name of Neobank, but in this campaign, blu Bank is trying to differentiate the kind of services that this brand provides with the current available ones offering from other brands and on a different ground.
In this new ground, blu Bank hasn't been satisfied with merely offering an automation system that provides basic banking. The brand aims to show what fundamentals should be considered if a bank were to be rebuilt from scratch. The current ecosystem is filled with startups whose services are used by many people. This ecosystem lacks an electronic bank that could sufficiently account for its users' needs. blu Bank has not just optimized a few banking services online, but in order to enter the banking ecosystem, the brand has targeted all banking processes. This is an ecosystem that will be taken place on the internet and on digital and mobile platforms. Overall, blu Bank is trying to smooth the flow of a digital ecosystem in its user's daily usage.
What group of audiences does the campaign target?
Dehghan: Young people are the main target audience for this campaign. With "Bank, but lovely" slogan, we point out that through creating a satisfying, simple and easy experience, we have created a lovely bank for our users. A bank that cannot have just a specific target audience due to the homogeneity of digitalization in the society. Despite considering young audiences as the main target group, other groups are also considered by us.
What channels were used to convey this message?
Dehghan: It's been defined as a 360-degree campaign and will be implemented in three phases within the span of 45 days. An integrated message has been designed for the campaign, but it will be completed in different phases and on different media. We have faced an increase in our incoming customers since the start of the campaign, but it is still too soon to talk about feedbacks.
What solutions did Lemon offer to tackle this project?
Seraj: blu Bank kickstarted its campaign with the goal of creating awareness and entering the market as a modern bank that offers its services online, in cooperation with Lemon from mid-summer. In this campaign, with the slogan "We changed the playing ground", Lemon has tried to create a feeling of capability, modernness, and disruptiveness through carving a platform in the minds of its key audiences, and to also convey the message to its audiences that blu Bank offers them a new, modern, and different experience in banking services.
Yazdani: As it mentioned, the first phase of this 360-degree campaign started with ideation and artwork creation, in line with blu's explorative personality, and with the concept of "making the impossible possible" in order to creating awareness and entering the market. In this phase, the goal is to create curiosity and tease capability in the mind of the audience, as if blu makes people capable of exacting an extraordinary feat like running on water with ease.
Please tell us more about designing the campaign's slogan.
Seraj: blu Bank completely eliminates the structures of the traditional bank that are mostly based on in-person services, and offers its services completely online. So, it has eliminated the playing field, or the traditional way of offering banking services, and has entered a new field, which is the mobile application. In line with this, the slogan "We changed the playing ground" conveys the message to the audience that blu Bank is a bank with new and unprecedented approaches.
from:lemon