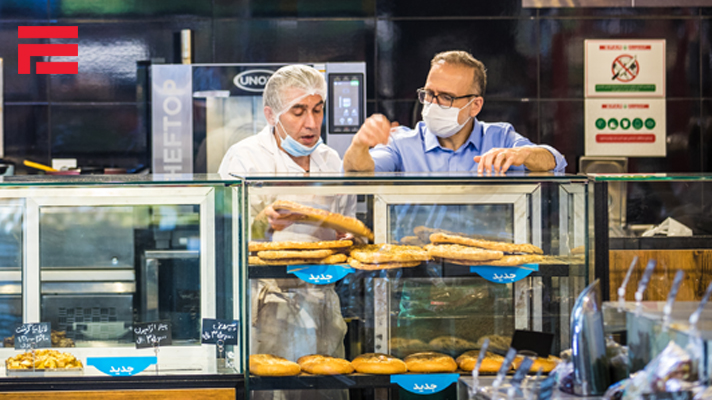 The beginning of the new season of collaboration between "Spar" and "FourMind" in 1400
The beginning of the new season of collaboration between "Spar" and "FourMind" in 1400
The Spar brand has announced its establishment in Iran in 1399 by three stores' openings. The FourMind agency accompanies The Spar group through guidelines' naturalization, stores' interior designs and branding and marketing conductions. The collaboration between the two will remain through 1400. In regard to The Spar's performance in Iran and activities conducted to this day, we had an interview with Amirhossein Anvari, the chief manager of Iran's Spar development, investment and marketing department and Pooya Roknian, Project Manager from the FourMind agency.
Can you describe Spar brand and its past experience in Iran?
Anvari: Spar is a brand established in 1932 in Netherland, with 89 years of experience. Spar follows the "Everyone benefits from shared collaboration" strategy. The strategy that gathered several brands and stores under the same roof and flag and that is where Spar began its work. Spar began its activity with 8 stores and added to them annually. Today Spar's shops have reached to more than 13300 branches in 50 countries all across the globe in 2021. This brand started officially in Iran in 2018 which took about two years from the establishment to the actual opening. Throughout this two year, Spar has employed specialist human resources, conducted marketing researches and…. Then the brand opened its three branches in Azar,9th in Sam Home in Pasdaran district, Galleria Complex in Velenjak district and Syiria Complex in Shemshak district. The number of branches will rise through 1400.
What was the vision behind Spar chain market launch?
Anvari: The stores were launched with the purpose of the audience's raised awareness around the brand and its presence in Iran's market. In fact, the main purpose for these three branches opening was to detect what's not working. Four months has passed now and we have noted the challenges precisely. Overcoming these challenges, will help us for the upcoming openings. Spar has simultaneously started two kinds of stores: an express store (Shemshak Galleria) and a supermarket (Pasdaran). With these two openings at the same time, the customers' taste was validated more accurately and concepts were conducted accordingly. According to the gathered information and market researches, Spar has established its future strategy to some extent and has become fully ready for the future openings.
How were the stores' locations selected?
Anvari: Spar has scheduled its presence in Tehran's one to four districts and some areas of district 22 (Near Hemmat Highway). These districts were selected according to design methods and stores' function. To choose a location, accurate studies are made. We look for locations that bring us the most appropriate feedback. In choosing these locations, accessibility and being seen by the customers were considered.
Who were the brand's target group?
Anvari: The stores' composition and design was formed in a way that people from different districts (regardless of their jobs or other circumstances) can buy diverse products with an acceptable fee. Stores' maps were adjusted based on each location and the composition and the design was developed according to the customers' needs. For example: In Pasdaran store sections such as butchery, bakery and…are considered but not in Shemshak store and this was based on customers' needs in different districts.
How were the stores welcomed?
Anvari: By considering the COVID situation and traffic limitations in night hours, the Shemshak and Pasdaran stores were welcomed very well. The Galleria's branch welcoming was also acceptable considering problems like closing shopping malls and others. The interesting point was that most customers noticed the customized design and its difference with other stores and gave us feedback upon it.
What achievements did collaboration with FourMind bring you?
Anvari: FourMind group uses young, talented and updated human resource with great capacity for companionship which differentiates this agency from other marketing agencies. Processes took no delay with the FourMind group and they even helped us further than their obligations in some cases. We look forward and plan to more long term collaborations with them. There has been a very satisfying coordination between the two groups and both are exchanging information for better conduction of the processes. Overall there is a positive synergism founded between the two.
What was the dilemma which brought the Spar brand to the FourMind group?
Roknian: The Spar in Iran came with a compact and concentrated schedule for a number of store openings in different contents, guidelines' naturalization, interior designs and branding and marketing of all branches. Afterwards all marketing activities was assigned to the FourMind group.
What Programs have you considered in marketing and advertising for launching the stores?
Roknian: Stores' openings notifications will be both online and offline (due to the COVID circumstances no notification will be done). In this phase guidelines' naturalization, stores' designs and branding will be conducted.
from: fourmind