Values
The values of dnaunion group are shaped on the basis of the common belief of its founders and their enthusiasm for applying these values in business. We believe that following the common key values of the group of companies will help us reach our objectives and establish a dynamic working environment.
Pioneering
Innovation: Producing new/modern and feasible solutions
Quality: Positive assessment of our new solutions by the industry veterans
Value added: Positive assessment of clients/market of the effectiveness and competence of our solutions
Growth: Qualitative and quantitative development and growth of the organization, services and market share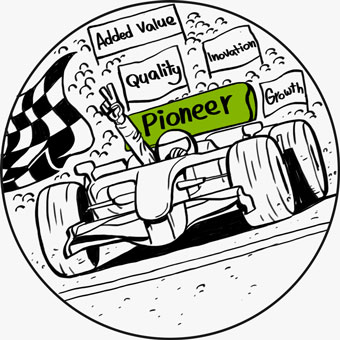 Team work
People: We consider people respectable, trustworthy, responsible, self-control and objective-oriented.
Synergy: Interaction or cooperation of two or more organizations to produce a combined effect greater than the sum of their separate effects
Support: Professional support of team members for practical, emotional and mental aspects in order to move forward team objectives
Succession Planning: Raising a competent person to carry out the affairs
Long-Lasting Relationship
Trustworthy: We are responsible, stable and sincere in our professional relations.
Responsive: We consider ourselves duty-bound to be responsive to clients, share-holders, staff, industry and the society.
Win-Win: We attach importance to the interests of the two sides equally.
Competence: We are striving to transfer professional knowledge, skills and experiences.