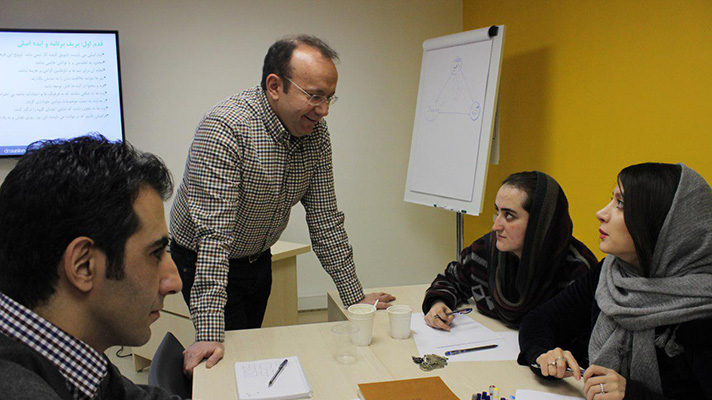 dnaunion: A happyunion!
Dnaunion Group's idealization on how to celebrate the Iranian New Year has ended, while the group members can still look forward to this year's appealing events.
Organizational malaise in Iranian companies is beyond description. Most of the staff in the Iranian organization spend long hours in a dull environment and feel the passage of their lives.
But in the meantime, there are companies that are trying to fix the ruinous problem in the Iranian organizations. In line with this, the Dnaunion Group has formed a group within the organization, called Happyunion, trying to banish boredom and lethargy from its staff. Happyunion is an attractive event for Dnaunion members that gives them new impetus to carry on.
Parastoo Rostami, who is in charge of Happyunion, says:
"In line with its social responsibility, Dnaunion Group arranges ceremonies and celebrations each year to mark different occasions. This year it was decided to have a better organization of such programs and have a careful planning within the group. To do this, Happyunion Group came to existence. It was named Happyunion because it encompasses both fun programs and measures in line with voluntary activities and so on, measures and activities that lead to further proximity among the large group of Dnaunion. Events, CSR charitable undertakings and entertainment are among activities that are intended for Happyunion. Participation in some programs for Dnaunion members is almost obligatory, but in other sectors such as in CSR and entertainment, members must register and attend voluntarily.
"End-of-the-year celebration is one of the significant events that is held every year. This year, Happyunion Group has planned the event. Nowruz or Iranian New Year is of great importance to the Iranian people and is an occasion for the reunion and visiting families.
"We, too, in our Dnaunion Group, are a large family, a family that gets together at the end of each year. A reunion that gives us extra energy to continue our path. The ceremony has reduced the gap between the members of the company, during which the executives and staff sit together away from administrative hierarchy.
"It takes almost six months planning for this celebration. To propose ideas for the celebration, the companies of Dnaunion group were called to introduce their representatives who had to forward their selected idea of their affiliated company to the group and then choose the best of bests for how to celebrate the end-of-the-year ceremony.
"For the forthcoming ceremony of this year, two days were spent to present and assess the ideas, and the representatives of the companies attended the meetings no matter which company they represented. It can be said that the border between the companies of Dnaunion Group was removed this year at the stage of presenting ideas and better collaboration took place. "Presently, we are planning to hold a ceremony and invite people to take part in the party to be held on March 16. To invite people to the ceremony this year, an interesting program has been arranged as in the past years. Mir-Nowrouzi, Earth Day and Woman's Day and so on were among programs of the previous years. After the end of the celebrations each year, pictures taken during the event were sent to the group members, while they were asked to participate in a survey and offer their opinions on how to better organize the New Year ceremonies in the coming years. All in all, our goal is to forge closer ties among members and foster a sense of intimacy and friendship between them."