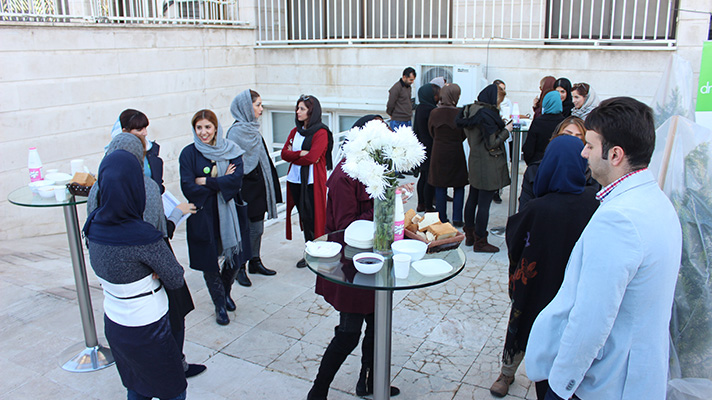 dnaunion, a Big and Great Family
The most important pillar of the dnaunion group, or in fact the dnaunion family, is the working human capital in this group. Familiarity with the values of the group is among the first steps, which is of high importance to the new members. In this regard, a program named 'our dnaunion' is held every six months in the group in which the human resources department, convinced that dnaunion colleagues are like a spirit in the body of the group, by holding 'our dnaunion' event will try to familiarize the new members with the nature of the group, companies of the group, its objectives, values and programs and finally with professional ethos in the working environment.
The sixth term of the event was held in the calendar month of Azar (November/December) this year in the presence of dnaunion Managing Director Nasser Pashapour and members of the human resources team as well as 24 new colleagues who have joined the group, in an atmosphere which, while maintaining its formality and working solemnity, sincerity of members of a family was completely visible in it.
The most attractive part for the audience, was what they heard about the history and the ups and downs behind the great name dnaunion, and were assured that as a member of the group, and a bird like the Phoenix birds (a fiction story upon which the dnaunion was named), they have a share in honoring values of the group.
They heard the dream of the founder of the group, which was realized and thought of their dreams in their minds – dreams that appeared on the board of 'our danunion'; dreams on the basis of which the dnaunion group hopes to create an atmosphere in line with its main slogan "dreamers that do", that can accompany members of the group for realizing their dreams and their working targets.
In the second part of the program, Maryam Manavi, in charge of training, talked about the professional manners of the working environment and the process of their effects on PDP (Personal Development Plan). Meanwhile, Parastoo Rostami, a media department director with the dnaunion also outlined values of the group.
Presentation of the programs of the dnaunion group was the concluding part of the ceremony and for the first time reference was made to 'happy union' which is a collection of programs, including ceremonies, accomplishment of tasks which are somehow considered the social responsibility of the group as well as happy and cheerful programs to entertain and strengthen the spirit of the colleagues. This collection of programs is expected to be held regularly all throughout the year.
At the end of the program as usual, the guests developed a new and complete view of the group and expressed their feelings with a distich, short phrase, a creative design, etc. for dnaunion.