Educational Products Ranked as 2nd Most Advertised Goods in Q2
During the summer of the current Iranian year (June 22-Sept. 22, 2019) television viewers witnessed an intense competition between TV adverts on educational products.
Based on data gathered by emrc educational products ranked second in the list of most shown adverts on television.
An emrc report named "A Study of Educational Product Television Adverts Over Summer" shows a total of 11,719 adverts were aired of ten brands active in the field during the three months.
Standing out among these brands was Gaj with an 80% and 76% share in the number and duration of adverts respectively. Gaj also topped the list during the same period of last year with a 66% share of all the adverts aired in the field.
During this summer, the number and length of adverts on educational products saw a 7% decline compared with the corresponding period of last year. During last year, educational product adverts peaked in summer when 51% of all the adverts shown were in this field.
The lion's share of adverts during this summer (6,576 adverts accounting for 56% of the total sum) were aired over August 22-Sept. 22. Eight brands advertised their products during the mentioned period.
In the second quarter Gaj registered a 12% increase in the number of its adverts year-on-year. The company's ads saw a 21% rise compared with its rivals over the same period compared with last summer.
IRIB Channels 1 and 3 as well as iFilm aired the highest number of adverts in the field, each dedicating a 14% share to themselves.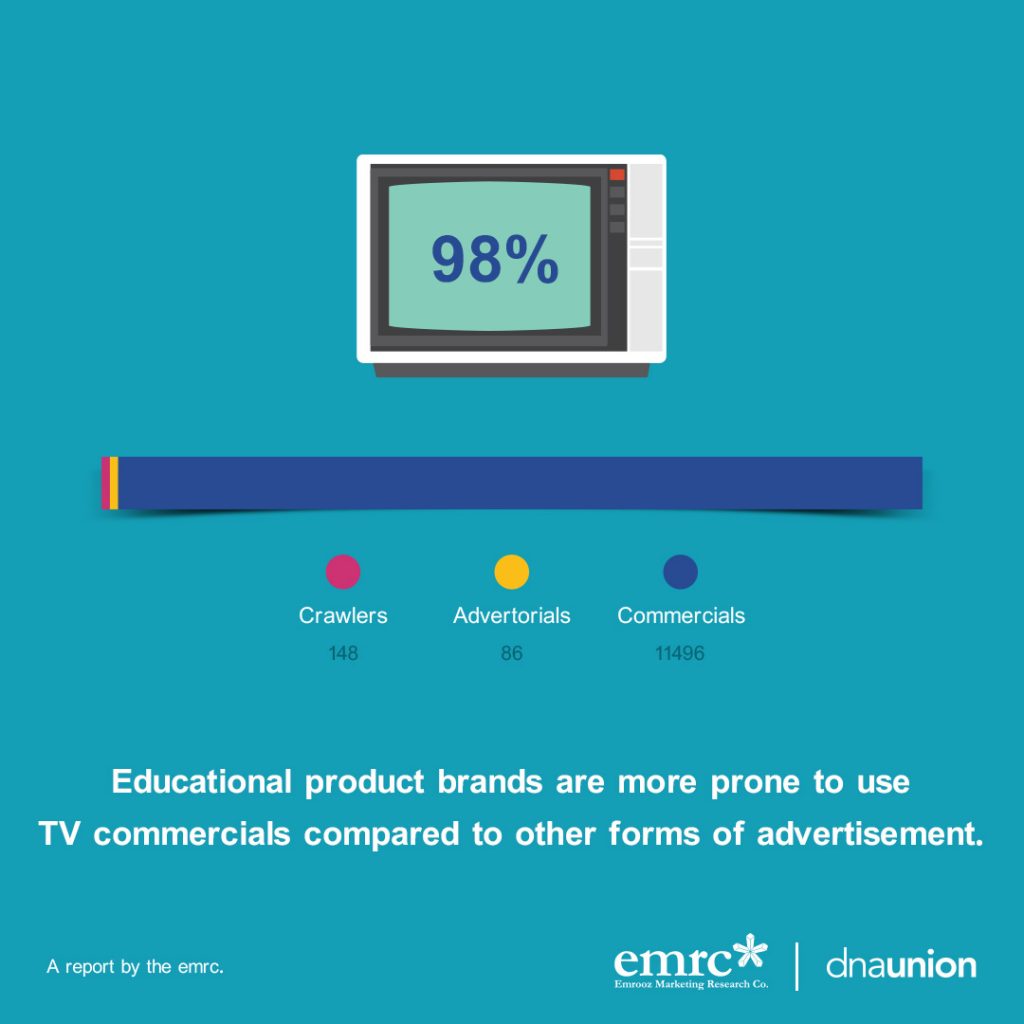 Channel 3 issued the highest tariff of 41% on adverts over the period. Moreover, Channel 6 experienced a 7-fold increase in the number of educational product adverts it aired which was the highest growth among all the channels under study.
IRIB Nasim registered a 4-fold rise and ranked second. On the other hand, adverts in IRIB Channel 4 decreased by 0.6 times to register the sharpest decline.
Also, the longest average length of an advert belonged to Maghz-e-Sabz brand with 131 seconds and the shortest pertained to Kheili Sabz with 20 seconds.
The data gathered in this report lends a helping hand to brands active in the field of educational products.
The emrc has studied adverts shown in Iran's national TV, namely IRIB Channel 1, 2, 3, 4, 5, 6 as well as Nasim, iFilm and Namayesh digital channels.
The emrc provides research advisory to major brands engaged in educational products. The company has released part of its gathered data. To gain more information you can get in touch with the company.