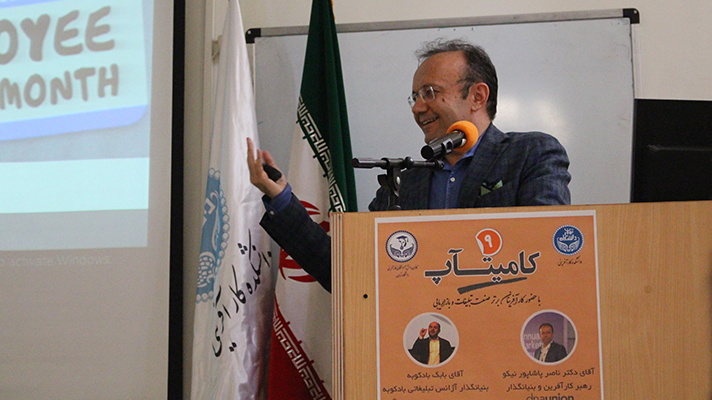 dnaunion: A Dream that Came True!
"Entrepreneurship is in the essence of mankind. I said this because in my childhood too, I did some entrepreneurship. The summer for the boys at that time was the working season, and every boy who finished the school year, sought some economic activity. And I was no exception to this rule. After schools were closed for summer vacations, I worked for two summers in my cousin's drapery in the Bazaar. Then I worked in aviculture and made good profit from the job. Altogether I learned to work from the very childhood and made money for myself and others."
The above statement is part of a lecture Nasser Pashapour Nikoo, a leading figure in entrepreneurship and CEO of the dnaunion group in a gathering on entrepreneurship at the Faculty of Entrepreneurship at the University of Tehran which was held recently with the participation of entrepreneurs in advertising and marketing industry. Pashapour Nikoo spoke about when he was a teenager, a young adult as well as the ups and downs of his career. He was addressing those young people who are keen to follow the path of the elders.
"There are moments in life that are never forgotten because people in their vital moments make the most important decisions of their lives. Decisions that change the way people live, and they focus on the interests and the path they should take. One of the important moments in my life was when I decided to be productive. To be productive and working relates to specific age and time. The important thing is that people decide to do the job only for the sake of cultural aspect rather than merely material aspect. Of course, my lifestyle also greatly contributed to strengthening the foundations of this decision."
Customers Win Is Your Win
I remember, during my childhood, the summer was the season of labor. The season most boys were thinking of earning money. When I was thirteen years old, I went to work for my cousin in the summer time when schools were closed. My cousin had drapery and was an experienced man. On the very first day of my work he taught me some educational tips that would increase sales and customer satisfaction. The summers were coming along and going, and I experienced a new job every year until I became seventeen. In that year, the Ministry of Agricultural Jihad (former Ministry of Construction Jihad) announced that they would offer chickens to interested applicants. Once the chick had grown, the holders would return them to the ministry and receive money. I and two of my friends got some chicks and raised them and thus made some good profit.
From that work experience I learned many things: One: Work ethics is more important than skill and ability. Two: When the customer is not happy, there is no money. Three: Think about the interests of the customer and yourself concurrently during the work time. The customer's win is your win.
Experience It!
Days passed until I entered the university. At the university I was very interested in solving problems. At that time, one of my professors who was the project manager in one of the government organizations suggested that I should go for an interview and start work there after being admitted. I passed the first interview and was invited for the second. During the second interview, I felt that I was reluctant to work at or get hired by any organization, and therefore left the place. That prompted me to start my own business. I have named this stage of my life "experience it". In that period of time, I was constantly looking for an experience until a job was offered to me in the field of wood work. At that time, I was in charge of exporting wood from the northern forests to a foreign client. This made me go to the forest for a week and sit idle for three weeks. Three weeks of unemployment made me think of something new. I was looking for a new job that a friend asked me to help a foreign company with production of promotional towels as a gift for their potential customers. This was ordered by an advertising company. For the sake of previous experiences I produced and presented the gifts in the best way. Experience is an important factor in life that can never be achieved quickly. Experience is gained step-by-step and stage-by-stage. Experience is not like instant shopping today: Purchases that occur by pushing a button in a fraction of a second.
'To Be' or 'To Have': Which One Is Stronger?
Pashapour Nikoo added: "It's better to look at the two verbs "To Be" and "To Have" from another angle. Anyone can gain their 'haves' in life in any way and within a short period of time. No matter how much they study, they would not get the experience until they enter action and feel the job closely. But being is not easily achieved. The experience is a component of being. Everyone should spend their 'haves' to gain their being. But getting a good job is part of everyone's 'haves' -- something that may have been achieved through favoritism or efficiency.
Keeping business customers is part of 'being'. Customers must be maintained thru sense of responsibility and commitment. The same way I did it many years ago and my performance led the foreign company ordering towels to increase their production and exports to neighboring countries. It worked so well that the client invited me to go abroad and visit the company. This was the third phase of my life when I took another important decision. At this point, I decided: I would not put my dreams apart and fight to realize them. I decided to start an advertising company. The decision that made me quit the rest of my activities. At that time, I did not compromise with my dreams at all. This is something everyone has to do if they want to succeed. So I began to launch a corporate company with motivation and I added a single unit every single day. But I wanted to have a company like a foreign advertising company. They were moving on the basis of strategy, and the strategy needed market research data. That's why I established a market research unit in my company in 2001/2. At that time, having an appropriate model would help me achieve my goals. Like a traffic light, the pattern would illuminate the path and make people achieve their targets. So if you want to succeed you must find your favorite job -- a job you would not feel the passage of time when you do it.
Infrastructure Turning Dreams into Success
Referring to the 1996/7 sanctions, Pashapour said: "Sanctions are not a new thing in the country and I have faced it many times during my activities. I remember the sanctions began in 1996/7 and the foreign client ordering towels left Iran. But this did not lead to defeat because I decided to work with domestic customers. Time passed until our company's first TV ad was aired in 1996/7.
Pashapour paused for a few seconds and continued: "The problems are always there but you are born once, and you must realize your dreams this one time." In addition to problems, exciting offers should not divert people from their dreams. Focusing on dreams is also very important. The focus makes the person remove all the marginal thoughts. Concentration on success is important, and the person needs to spend on achieving concentration. In addition, a person must be constantly innovative in order to succeed. Therefore, it's not just dreaming and it's up to the individual to provide the appropriate infrastructure for dreaming and growth. The infrastructure of our company would also improve day by day. The move was in a way that we set up our first foreign company in the UAE in 2007/8 .In 2010/11 I entered specialized advertising areas. In that year, we could no longer have a general look at the advertising and marketing sectors, and we would have to follow each sector. In 2011/12, the company had expanded so much that it was no longer possible to steer it from a single room. So I decided to form a group called dnaunion to keep all companies under its umbrella."
Now, let me explain briefly why we chose 'dnaunion group' for our company. dnaunion is a remake of Simorgh (Phoenix tale). dna represents diversity and distinguishes individuals from each other. But union represents a common goal that brings together all the dna people. In Phoenix's tale, various chickens were combined with various abilities to reach Mount Qaf, and finally 30 chickens that turned to Simorgh's myth to reach the goal. dnaunion reflects the belief that it was not necessary to be uniform to get together. Instead, it is necessary to pursue a goal and strategy for success.
At the end of his speech Pashapour spoke about the years of launching the rest of the company, and said: "xerotex agency was established in 2013/4 with the approach of providing digital services and in 2016/16 Iran branch of Media Sources was set up. In the same year, a company called Certius was launched with the participation of international consultants with a thirty-year experience. In conclusion, he noted: "In general, the dnaunion group helps brands to properly implement their marketing and advertising goals. At the end of the event, some questions were raised by the participants and answers were provided by entrepreneurs of advertising and marketing industry.