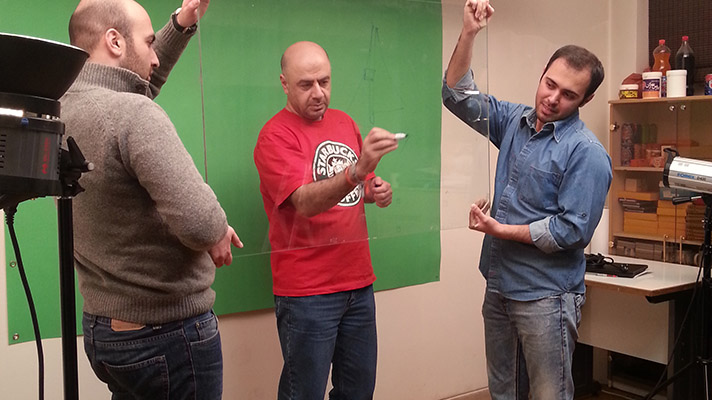 dnaunion, a Good Companion in Difficult Journeys
Traveling needs a companion, a sympathizer who would stay till the end of the journey and the one who would make it memorable. Treading a course the end of which is ambiguous but a company would make it pleasant… Journey means to have a good company…
Commenting on the theme "Travel Means a Good Companion", Maryam Manavi says: "The most valuable assets of dnaunion are its human resources. This year we wanted to congratulate the New Year to all the colleagues and all those who work with dnaunion."
She further says: "Good travel companions in this slogan are meant to be our colleagues. For taking this road we are in need of good travel companions. We wanted to discuss the point that working is like traveling and when there is a good traveling companion you will have a peasant and memorable journey.
"For making a film we asked 260 of our colleagues to name the elements which reminded them of traveling. Many things came into their minds: books, toothbrush, baton, camera and… And finally, they appeared in front of the camera at Eshareh Studio to talk about their proposed items. They made a creative performance which was different from the personality we had seen from them up to that moment. Three films were made which sent positive energy to the companies.
"Concurrently, three elements of camera, boat and suitcase were considered for a journey and the trip elements were drawn on the card in the form of small colored circles inspired by the dnaunion company logo. In the films when the camera moves backward, the company staff is seen inside the circles. Eventually as the camera moves further away these circles created the three elements."
Naghmeh Flor Zabihi, Creativity Department Director at Eshareh Company says: "A pitch was held among the three major subsidiary companies and finally the major trip idea from Eshareh was merged with another idea from Xerotex Company and thus the final idea came up.
"The main idea was conceived from the dnaunion Company topic itself: a conglomerate of companies with different work nature which have gathered under one umbrella; like people with different spirits who are traveling together for one common goal. In making a trip it is important to have a good companion. The companies under the holding, teamwork and ethics of the staff have resulted in the growth of dnaunion conglomerate.
"On the designed cards there was a QR Code which linked visitors to the dnaunion website and our colleagues and customers could watch the videos there.
"The objective behind this measure was to display the importance and grandeur of the holding and to show that in treading this path all in dnaunion follow one goal. Again as it was said before: Journey means having good companions."