Increased Share of Domestic Brands in Iran's Stationery Market
The stationery market blooms in autumn and with the opening of schools. Based on data gathered by emrc more than 40% of Iranian households purchased stationery during the last Iranian year (March 2018-19).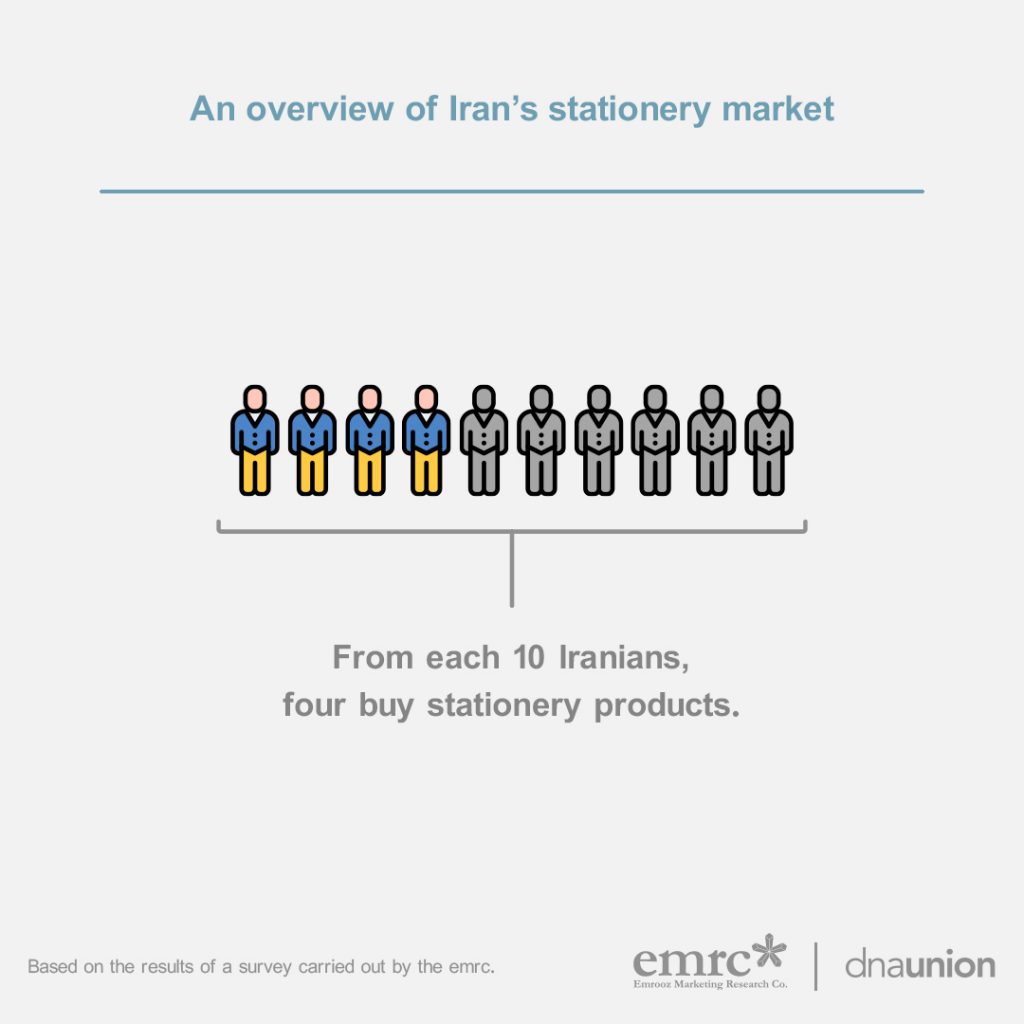 The figure shows the negative impact of the current economic situation. In fact, during the Iranian fiscals of 2015-16 to 2018-19 the purchasing of foreign stationery experienced a constant decline of over 10%. This is while during the same period, purchases of domestic stationery brands saw an 8% growth.
The data provided here are based on "A Study of the Penetration Rate of Stationery in the Iranian Society", a report released by emrc. A field research was carried out to arrive at the data and participants were residents of urban areas aged 15 and above.
For households with school or university students buying stationery is unavoidable. According to figures released by emrc, more than 60% of heads of households who have members in their family attending pre-school to high-school (aged 5-6 to 18) said they have purchased stationery for themselves or a household member during last year.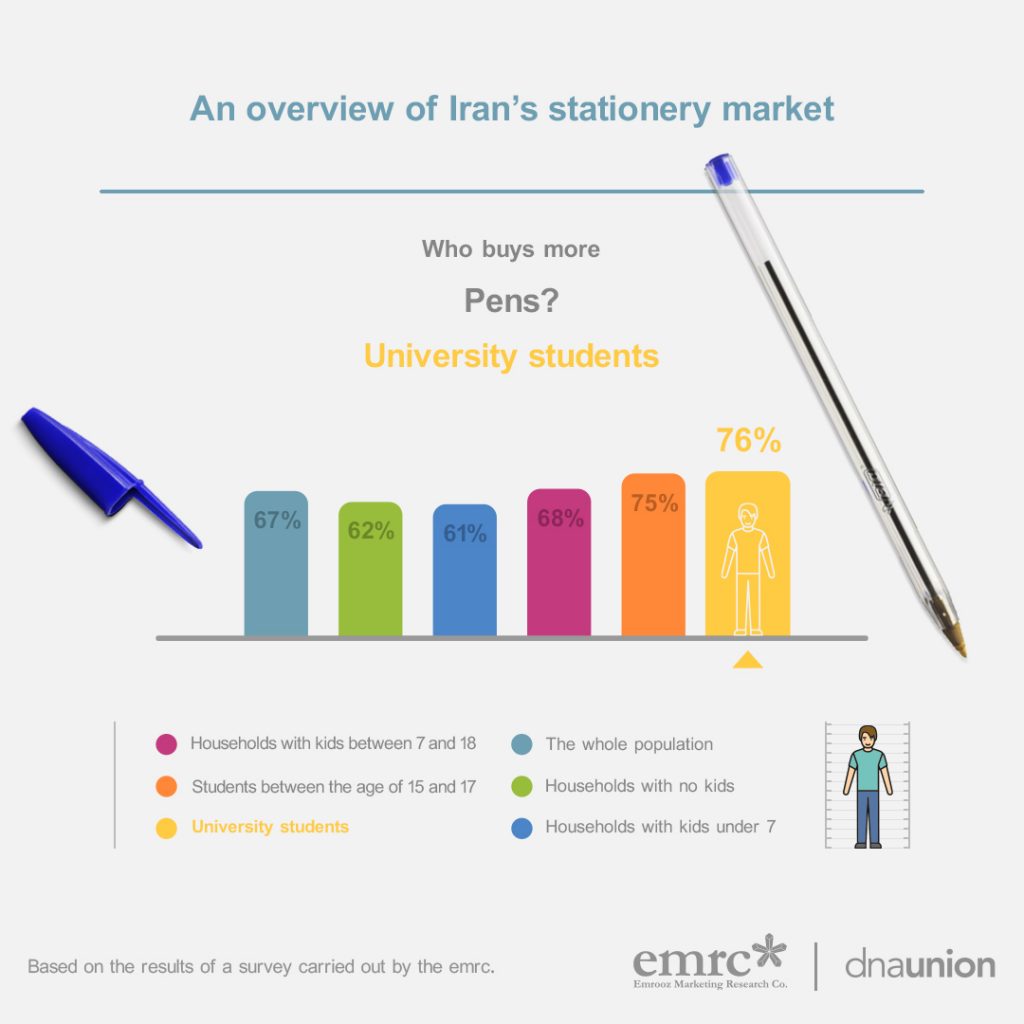 Such purchases were not confined to the breadwinner. Part of the respondents who were pupils or university students (aged 15 to 17) said they had themselves purchased stationery. More than 60% of Iranian pupils and 50% of university students bought stationery for themselves or a member of their household last year.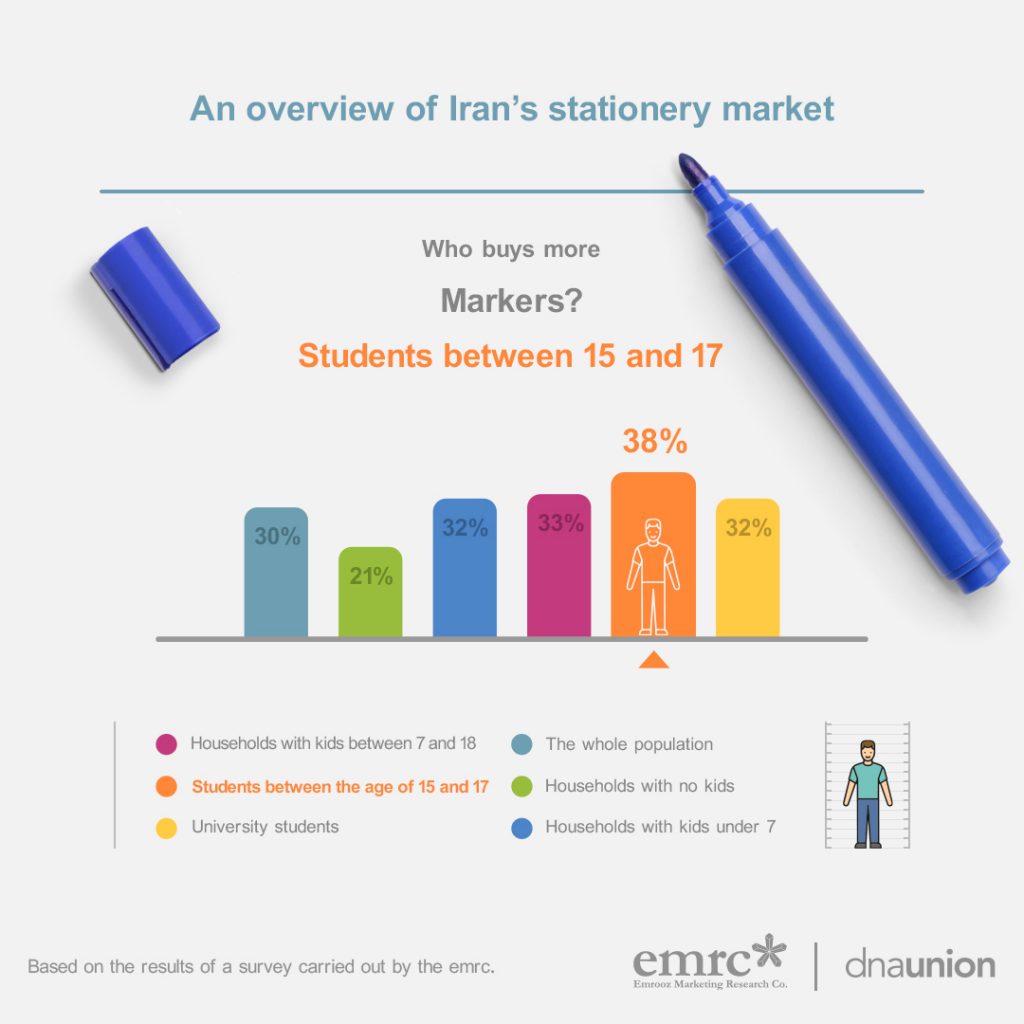 Moreover, only a fifth (22%) of the respondents who had no children in their household announced that they had purchased stationery over the mentioned 12-month period.
Households with a pupil (aged 7-18) bought more pencils while the ones with a 5 to 6-year-old bought more colored pencils. Also, university students bought more pens while pupils aged 15 to 17 bought more felt tip pens/markers.
The seventh month of the Iranian year which falls on Sept. 22-Oct. 22 is the time schools reopen every year and demand for stationery goes up. Over the past few years, the economic situation has impacted the purchasing powers of consumers. Recent economic conditions have reduced the share of foreign stationery demand in the Iranian market. The present report shows the purchasing of foreign stationery brands correlates directly with a household's income decile, meaning lower-income deciles are less probable to buy foreign brands.
As the report reads, the four lower-income deciles purchase 8% more of domestically-made stationery than do the average Iranian population.
The abovementioned research shows the Iranian market welcomes domestic brands and Iranian companies active in the filed can seize a great share of the market by studying and evaluating the needs and tastes of their target consumers.
The current report will be of great help for stationery businesses and organizations that act as decision-makers for the stationery market.