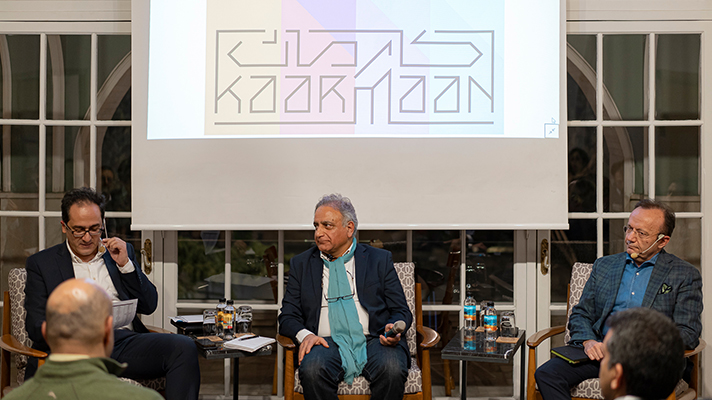 Innovation Reshaping Marketing Industry: dnaunion CEO
What does innovation mean in marketing? Where does innovation originate from? These were among questions that were answered during a gathering dubbed "Innovation in Marketing" hosted by Kaarmaan House.
Nasser Pashapour Nikoo CEO of dnaunion and Kambiz Heydarzadeh faculty member at Islamic Azad University provided answers to these questions. Saeed Nabavian emcr's senior analyst chaired the panel.
Innovation in Marketing
During the event, Pashapour said, "Innovation in marketing means to invent and put to work methods by which to understand the behavior of a target group to influence their decisions while making a purchase. In other words, coming up with a method that did not exist before and using it to influence consumers."
According to him, innovation in marketing is different from that in other fields. The focus of innovation in this field is not on R&D. "When products are piled up in the storage, that's when innovation comes to play in marketing," he added.
Without playing with words, Heydarzadeh said, "Innovation in marketing means anything which is understood in a new way in the market. Here, 'market' does not signify what an economist would make of it (any space where supply and demand find a balance) but refers to how marketing defines it. For us, 'market is any space in which actual or potential customers exist."
He continued by saying, "Most Iranian marketing agencies simply copy methods used by their foreign peers. But Iran's market is unique in many ways and different methods need to be devised to fit the needs of the local businesses."
According to him, the global economy, at present, is based on the Austrian school or the free market. "You see competition in action in a free market. Yet, apart from a small part of the FMGC, cosmetics and toiletries markets, there is no real rivalry in Iran's market."
In response to Heydarzadeh, Pashapour said, "Copying is the first stage of learning and in' Iran we are at the first stage of marketing business development. We need to use a microscope and search for untrodden paths. So, I agree that most marketing methods used in Iran are copied."
He is of the opinion that, local firms can learn much from leading foreign companies. The veteran businessman acknowledged that Iranian marketing firms might be infringing copyrights.
During the panel, Nabavian said, "Iranian consumers are different from those of other countries in that they are distrustful of everything in all market sectors. We can't talk to an Iranian consumer the way consumers are addressed elsewhere. So copying can end up having opposite results."
Pashapour remarked that innovation in marketing should ultimately lead to solving a problem that customers are dealing with. "That should be our highest priority."
Pashapour concluded by saying, "Innovation in marketing can be divided into three types: innovation in business model, innovation in purchasing processes, and innovation in products. To be innovative, you need to listen to customers and address their needs."