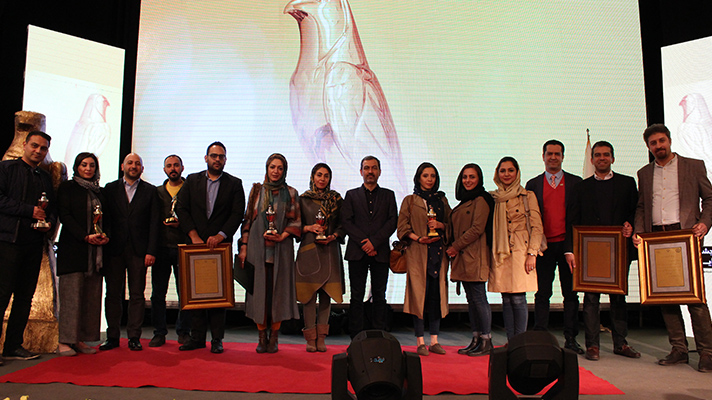 Iranian Advertising Phoenix (Simorgh) Flying over the Festival Hawk
The dnaunion group was featured successfully at the 3rd Iranian Festival on Top Advertising Works. For the third time, the group took home the hawks of the festival. It won four golden hawks, five silver hawks and three honorary diplomas. The Iranian Festival of Top Advertising Works was held with the presence of the Association of Advertising Agencies and Advertising Centers, Public Relations Offices as well as Manufacturing and Service Companies at Tarbiat Modares University. Also at the festival, Dr. Mohammad Bagher Nobakht, head of the Planning and Budget Organization and spokesman of the government, and Dr. Mohammad Soltanifar, Deputy Minister of Culture and Islamic Guidance for Press and Information Affairs delivered speeches addressing the state of the advertising industry in Iran.
At the festival, the promise of launching an Advertising Industry union and the government's closer and more practical cooperation with the advertising activists was given to the audience. It must be noted that in this festival, promotional sections in various workgroups such as the Comprehensive Advertising Campaign, Direct Support Advertising, Peripheral Advertising, Public Relations Promotional Activities Workgroup, Print Advertising and Advertising Architecture, Cultural Workgroup, Brand Design and Branding Section, Audio Visual Workgroup , Radio Advertising Sections, Press Releases, Cultural Advertising Films, Cultural Teasers, Radio/TV Advertising, Digital Advertising, and Advertising Works.
The festival ended on March 5, 2018.
Also, the awards won by the dnaunion group at the 3rd Advertising Festival are as follows:
Magnolia Advertising Company
• Under the Advertising Campaign: Golden Hawk for promoting Kibi Products
• In the Digital Advertising Section: Golden Hawk for Advertising Molped products
• In the Digital Advertising section: Silver Hawk for Advertising Roozaneh Dairy products
Eshareh Advertising Agency
• In the Branch of Sponsorship (Financial Support): Golden hawk for Children of Heaven
• In the Audio Visual Section of the Radio Department: Diploma of Honor for advertisement of Senan
• In the Audio Visual Branch of the TV Teaser Section: Silver Hawk for advertisement
• In the Peripheral Advertising Branch: Silver Hawk for advertising Senan
• In the Advertising Campaign Branch: Silver Hawk
• In Brand and Brand Design, and Visual Identity: Diploma of Honor
• In Print and Advertising Architecture (Promotional Store Products): Silver Hawk for Advertising Peril products
• In the Print Advertising Section: Diploma of Honor for marketing Senan
Emrooz Market Research Company
• In the Advertising and Research Branch: Golden Hawk