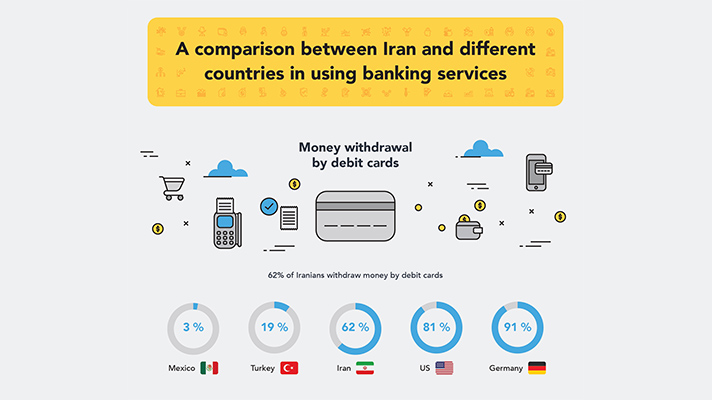 Comparison of Insurance & Banking Services' Usage in Iran and Other Countries
The economic crisis has swept across the globe and Iran is no exception to that. Every day, there is news regarding Iran's financial conditions which gives rise to concerns and worries. In the meantime, it's interesting to know in what proportion to people of other countries, Iranians use their country's insurance and banking services. The following report deals with this subject matter.
According to Emrooz Marketing Research Company (EMRC), 62 percent of Iranians residing in urban areas withdraw money using their debit cards. This figure is 91 percent in Germany, 81 in the United States, and three in Mexico.
The important issue is that despite widespread use of ATM cards to withdraw money, a small percentage of Iranian citizens have these cards.
Statistics show that only 5 percent of Iranians have these cards. The figure reaches 95 percent in China and goes down to one percent in Indonesia, Thailand, and Vietnam.
According to the same report, about 70 percent of Iranian citizens who hold debit cards, have one or two cards. This percentage, however, varies from country to country. For example, in the United States, 62 percent of people have one or two cards and the remaining 38 percent have three or more.
Italy, Portugal, and Argentina are at the t op of the category with the highest number of people having one card.
The statistics show interesting fluctuations in this section; fluctuations that our country's banks should focus on and begin to serve their clients based on them.
Iranians' Outlook on Approach to Using Financial Services
This report is not limited to the percentages provided above and the findings of a questionnaire completed by residents of urban areas over the age of 15 years are also mentioned.
The report indicates that 39 percent of Iranians believe they are "experts in financial operations". This is while 64 percent of the urban populations in the United States and only 11 percent in China believe so.
In a similar vein, 28 percent of Iranians accept they "usually spend money without thinking." Saudi Arabia stands at the top of the list in this regard with 32 percent and Italy, with only 2 percent, at the bottom. Iran is among the top five countries in this category, which suggests that Iranians should review their spending procedures.
But it's interesting to know that 60 percent of Iranians "do not feel good about borrowing". This figure is 88 percent in the United States and 19 percent in China.
The Iranian attitude toward earning money is also interesting. Some 40 percent of Iranians think "what they spend their time on is more important than the money they are getting from it." This percentage is lower than the global average. This attitude varies from country to country, ranging from 66 percent in the United States to 16 percent in Finland.
Iranians Approach to Insurance Services
Insurance services use and the number of people using it is directly related to the economic conditions of countries. Some 16 percent of Iranians use private insurance services. (This figure does not include people who are covered by the Social Security Organization, the Armed Forces Insurance, and the Health Insurance Organization).
The percentage of private insurance services coverage varies from country to country. Slovenia, Slovakia, Croatia, the United States and France are at the top of the list in this category, covering 80 percent of the people. Hungary and Vietnam are at the bottom of the list, with 3 percent coverage of private insurance services.
Only 10 Percent of Iranians Have Life Insurance
The influence and extent of the provision and use of life, car, and home insurances are affected in different countries by several factors including political, economic and social stability and is derived from the view towards the future of people of different countries.
The EMRC report shows only 10 percent of Iranians have life insurance. The prevalence of this type of insurance is 76 percent in Sweden and 2 percent in Indonesia.
The research approach to the subject of insurance is not limited to the cases mentioned above. The report states 28 percent of car owners have insured their cars in Iran. (Vehicle insurance in Iran includes third-party insurance as well as passenger and vehicle accident insurance).
In this category, Iran is ranked between South Africa with 23 percent and Brazil with 30 percent of car insurance coverage. At the top of the category are Germany, Canada and Spain, where almost all car owners (more than 97 percent) use car insurance. The least car insurance coverage was made in Russia and Thailand, where less than 10 percent of car owners use it.
Car insurance, with all the rules and regulations, is not the only kind of insurance that has been left overlooked by Iranians, and building and house insurance is not a major issue for them, either.
Only three percent of Iranians owning private homes have insured their buildings and houses. In this category, Iran is located at the bottom of the list between Singapore and Sri Lanka. France and Sweden are at top of the list with more than 90 percent of houses being insured.
The perspective and lifestyle of Iranians can be analyzed by studying and comparing the percentages mentioned in this report; an analysis that will lead to a better knowledge of the audience and will serve as a traffic light for the decision makers and those active in the insurance and banking fields.
** It should be noted that the information and data presented in this report are accurate and based on global reports, in which 47 countries have been studied. The Iran section of this report is collected and analyzed by Emrooz Marketing Research Company.